June 5, 2023: Hong Kong police are reported to have detained 23 people on June 4 for "breaching public peace" as authorities tightened security during the 34th anniversary of the 1989 Tiananmen Square massacre.
 Hong Kong has historically been the site of the largest vigil every June 4, but repressive measures imposed by Hong Kong authorities and the imposition of the National Security Law in June 2020 have prevented people from assembling. Sections of Victoria Park, the usual site of the vigil, was closed in advance for maintenance. According to news reports, about 250 people, including opposition politicians, lawyers and journalists, have been arrested for suspected national security offenses.
In December 2021 the Hong Kong University was forced to remove the 'Pillar of Shame' the 8 meter tall sculpture which depicts 50 torn and twisted bodies piled on top of each other, was made by Danish sculptor Jens Galschiot to symbolize the lives lost during the bloody military crackdown on pro-democracy protesters in Beijing's Tiananmen Square on June 4, 1989
On May 5, 2023 local media reported that Hong Kong police seized the 'Pillar of Shame' to possibly prevent the sculpture from being used on June 4 and at other events. The Hong Kong government released a statement saying that "the National Security Department of the Hong Kong Police Force conducted searches [on 5 May] with a warrant and seized an exhibit related to an 'incitement to subversion' case under the National Security Law".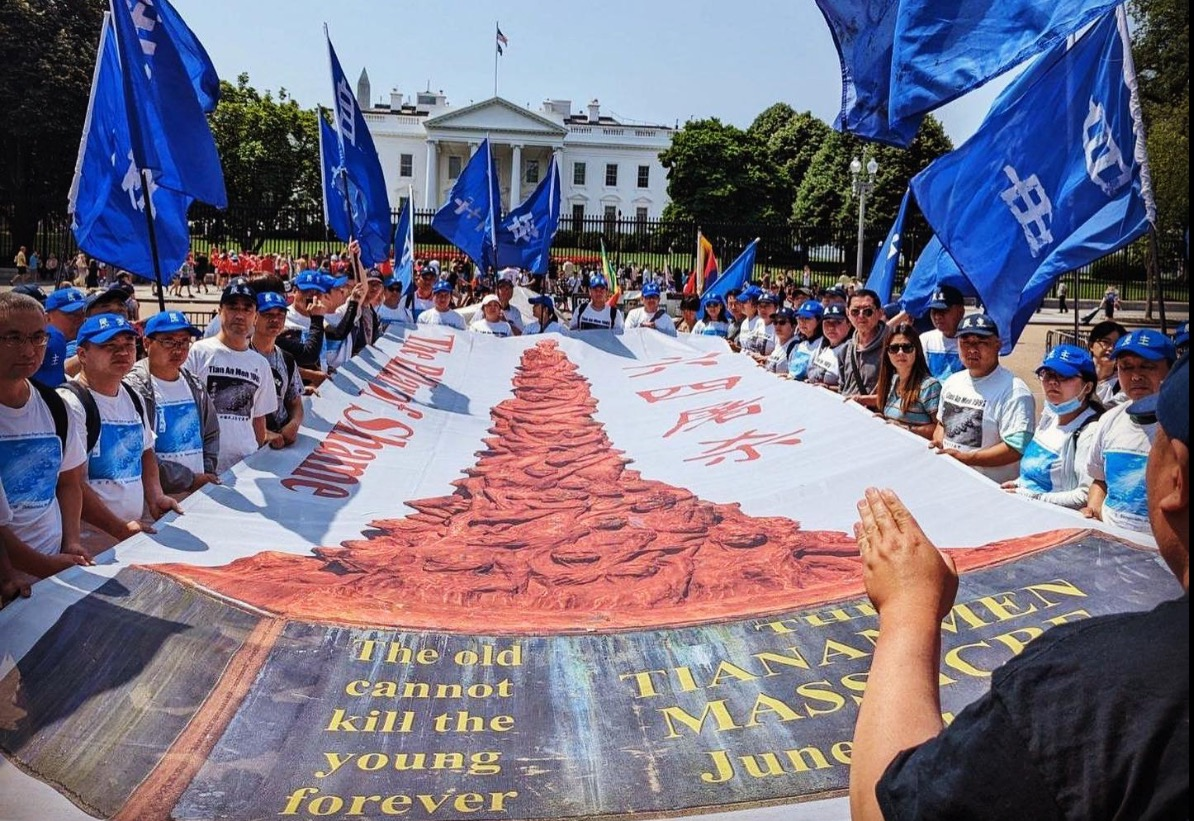 (Source: NGO DEI)
NGO DEI, a non-profit art and cultural institution founded by Hongkongers and based in Prague, commemorated the 34th anniversary of the 1989 Tiananmen Square massacre by unfurling giant banners bearing the image of the 'Pillar of Shame' in 40 cities across the globe and launching the 'Pillars of Shame in Exile' social media campaign. Banners were unfurled in Amsterdam, Auckland, Berlin, Brisbane, Brussels, Copenhagen, London, Los Angeles, Melbourne, Oslo, Paris, Prague, Seoul, Sydney, Stockholm, Taipei, Tokyo, Toronto, Warsaw, Washington DC, and Wellington.