June 2, 2023: The Chinese government's ongoing efforts to "Sincize" Islam in China by demolishing and changing the looks of mosques across China met with fierce resistance in Yunnan province in Southwestern when thousands of Hui Muslims protested the planned demolition and renovation of the Najiaying mosque, one of the most important and remaining mosque for the Hui community.
The Chinese government's "sinicization" of mosques involves destroying the domes and minarets of mosques and converting the architecture and external appearance to look less "Arabic" and more Chinese.
According to news reports, local authorities sent workers with cranes and bulldozers to Najiaying village on May 27 along with a large contingent of anti-riot police. Fearing that the mosque was under attack, thousands of Hui Muslims converged near the mosque and clashed with the police who reportedly had to retreat a day later before coming back with a much larger security force which included both the police and the military.
Videos posted on social media show residents clashing with security forces. According to a report in Bitter Winter the police have ordered the residents to end the protests by June 5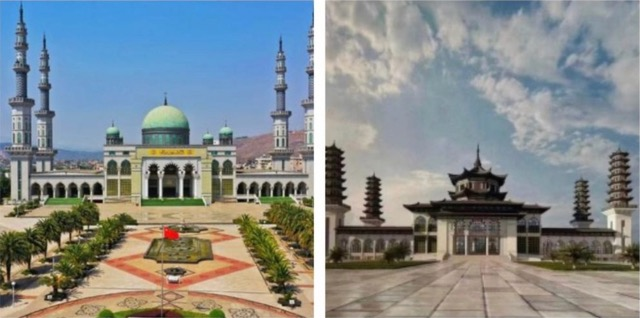 (The Grand Mosque of Shadian, as it is now (left) and as it will look like after the "Sinicization" (right). Source: Bitter Winter)
The Hui people are predominantly Chinese-speaking Muslims. According to the 2011 census, there are approximately 10.5 million Hui people in China, mainly in the northwestern provinces and in the Zhongyuan region. Yunnan is home to some 700,000 Hui Muslims.
Under Xi Jinping, the Chinese government and the Chinese Communist Party have adopted a hardline policy of assimilating and "Sinicizing" Tibetan Buddhism, Islam and Tibetans, Uyghurs, Mongolians and other non-Chinese communities.
More Information: